Spring and Summer Shares For 2018 Available!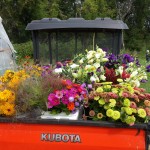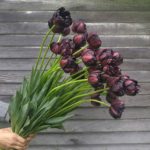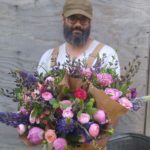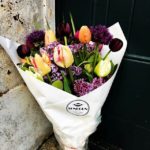 Support your local flower community with a bouquet subscription!
Thank you to those who supported our first CSA! With that success we are happy to offer it again for the 2018 season with a few kinks ironed out.
The way a CSA works is you buy a share of the flowers we grow up front and when the season starts you receive your bouquets containing local, sustainably grown Sunborn flowers. CSA (Community Supported Agriculture) shares help us purchase seeds and infrastructure for the next growing season.
CSA bouquets can be picked up at our farm in Mt. Horeb or our stand at the Dane County Farmers market . Delivery to Mt. Horeb also available.
Your bouquet will change with the seasons. We grow almost 200 varieties of flowers and each bouquet will be a beautiful handcrafted mix of local blooms.  Each bouquet will be more bountiful and contain more premium flowers than our standard market bunch.
Sign up starts now!
Spring Share:
Spring is by far my favorite time of year. All the most premium and sought after blooms start the season off right. From our incredible unique tulips and hyacinth,  to Ranunculus and Peonies, these are the varieties flower lovers dream of. The spring share consists of 4 bi-weekly bouquets.
Flowers will be ready by the first Saturday in May if weather permits. Once you sign up you will receive an email confirming the start time of your share closer to its date as it is dependent on mother nature.
Summer Share:
An 8  bouquet subscription to be picked up bi-weekly at our farm or our market stand. Stats July 14th and ends October 20th. The hot summer sun brings on multiple varieties of florals all at once. We have been cultivating flowers for over 40 years and have curated some of the most amazing blooms. From Lisianthus, to Dahlias, to Sunflowers and an abundance of other varieties to mix them with. Bring on the Color! 
*For all subscriptions if you need to skip a week or change the date of pick up please email Lisa to work out details. Money will not be refunded for forgotten bouquets. If by some act of nature we have a multiple crop failure we will refund in whole.